A brief history of the Scandinavian wood veneer light
by Fredrik Hagblom
I grew up in Sweden during the golden era of Scandinavian pine interiors. The heavy wood grain came to signify the warmth and safety of our Swedish 1970s home.
But it actually started way before the 70s when the Swedish architect Axel Einar Hjorth in 1932 presented his series of furniture known as "Sportstugemöbler" (furniture for holiday houses). The collection was based on Swedish rural traditions mixed with international modernism and was very surprising coming from Hjort who was known for using very expensive and luxurious materials up until this time.
In the 1960s and 70s pine furniture and decorative objects became the standard among all levels of Scandinavian society, with everything from wall panels and entire furniture sets to lamp fixtures and candle holders.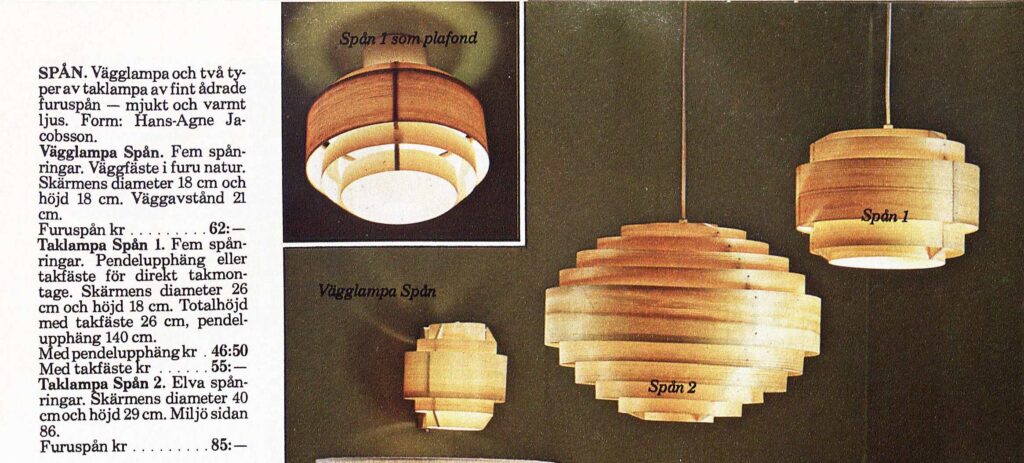 The idea of using thin wood veneer to shade the intensity of a naked light bulb and at the same time display the transparency of the wood grain is said to have been invented by Swedish interior architect Hans-Agne Jakobsson. In the beginning of the 1960s Jakobsson was head of his own light manufacturing in Markaryd in southern Sweden were he also ran a shop for the public. During Christmas decoration of the shop windows he spontaneously pulled out some wood veneer and covered several naked light bulbs with it displaying a warm wood grain glow through the thin sheets. Very soon several by passers entered asking to buy the creation and this brought the idea to Jakobsson of developing this into a series of light fixtures and pendants.
Hans-Agne Jakobsson was an interior architect and furniture designer who started as an assistant to Carl Malmsten and Werner West. Jakobsson is today internationally known for his modern luminaire design, often in brass with many globes in clear or smoked glass, many classic and very expensive light fixtures that are collectors' items today.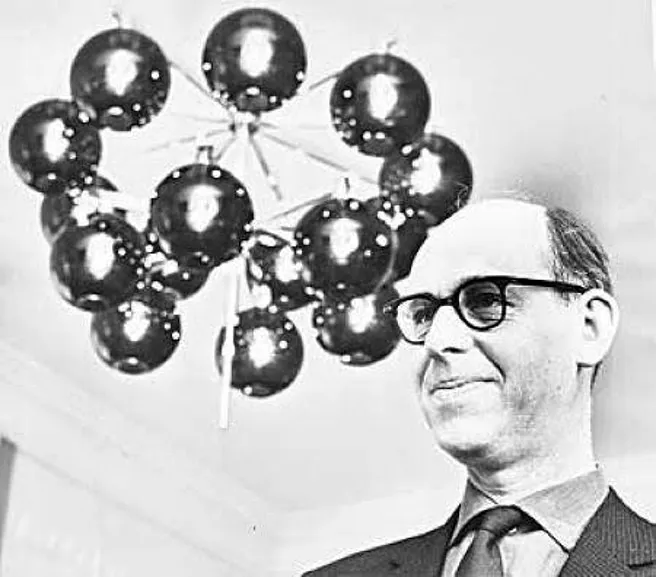 In the mid 60s he founded the company Ellysett AB and built an entire production plant for pine veneer lights in Markaryd. The export of Swedish veneer lights to every corner of the world had begun.
As always when a trend catches on the market gets flooded with copies, imitations and just designs that are inspired by the original. Today when you google Hans-Agne Jakobsson approximately 80% of what comes up has nothing more to do with Jakobsson then perhaps a hint of inspiration. Or it is based on some stubborn rumor regarding a particular design.
One of the more noticeable and qualitative veneer light makers of the 1960s and 70s was the Danish company "Translandia" who made many very good lights using quality veneer. When found at auctions and design dealers today most of these are falsely attributed to Hans-Agne Jakobsson, most of the time due to lack of deeper knowledge.
There was also many "kit lights" sold with pine veneer structures that you would assemble following an instruction sheet. These can sometimes be very decorative but used a varied quality of veneer and are often not so well assembled. Some of the main manufacturers of these lights was the Danish company Panduro Hobby and Finish company "Finnbastler".
Towards the end of the 1980s pine wood interiors became hopelessly outdated and most of the furniture and objects were either discarded or painted. The pine veneer lights were most often thrown away and in rare cases stowed. Due to their fragile nature most of them were broken and lost. It was also a challenge back then to combine the very warm lightbulbs of the day with the closeness of thin dry wood. In a very short time these lights dried out and became hopelessly brittle. This situation is very different today with the common led bulbs generating practically no heat at all. An asset for use of the lights today as they are back in fashion with a vengeance.
I have been professionally trading in vintage Scandinavian lights for 10 years and during the time the popularity of this style of lamp has grown enormously. Lately I have bought every Scandinavian veneer light that has come my way and I think as little as four or five has been what I consider "good condition". However much you may appreciate patina in vintage objects, cracked wood veneer when backlit is never really pretty. This led me to start my own small production of the OGMA lights. In my long search for quality veneer, especially visually good, I was unable to find good pine and finally settled on French larch wood. When I am done with my present stock of beautiful larch the hunt goes on. Hopefully the good veneer lasts as long as you all want to buy wood grain lights.